LEARN TO DRIFT
Have you ever wanted to learn how to drift, or learn advanced car control techniques? Or maybe just want to experience drifting in a high-performance drift car? You've come to the right place. We offer affordable drift courses geared towards beginners, as well as heart-pounding ride alongs in a fully built drift car.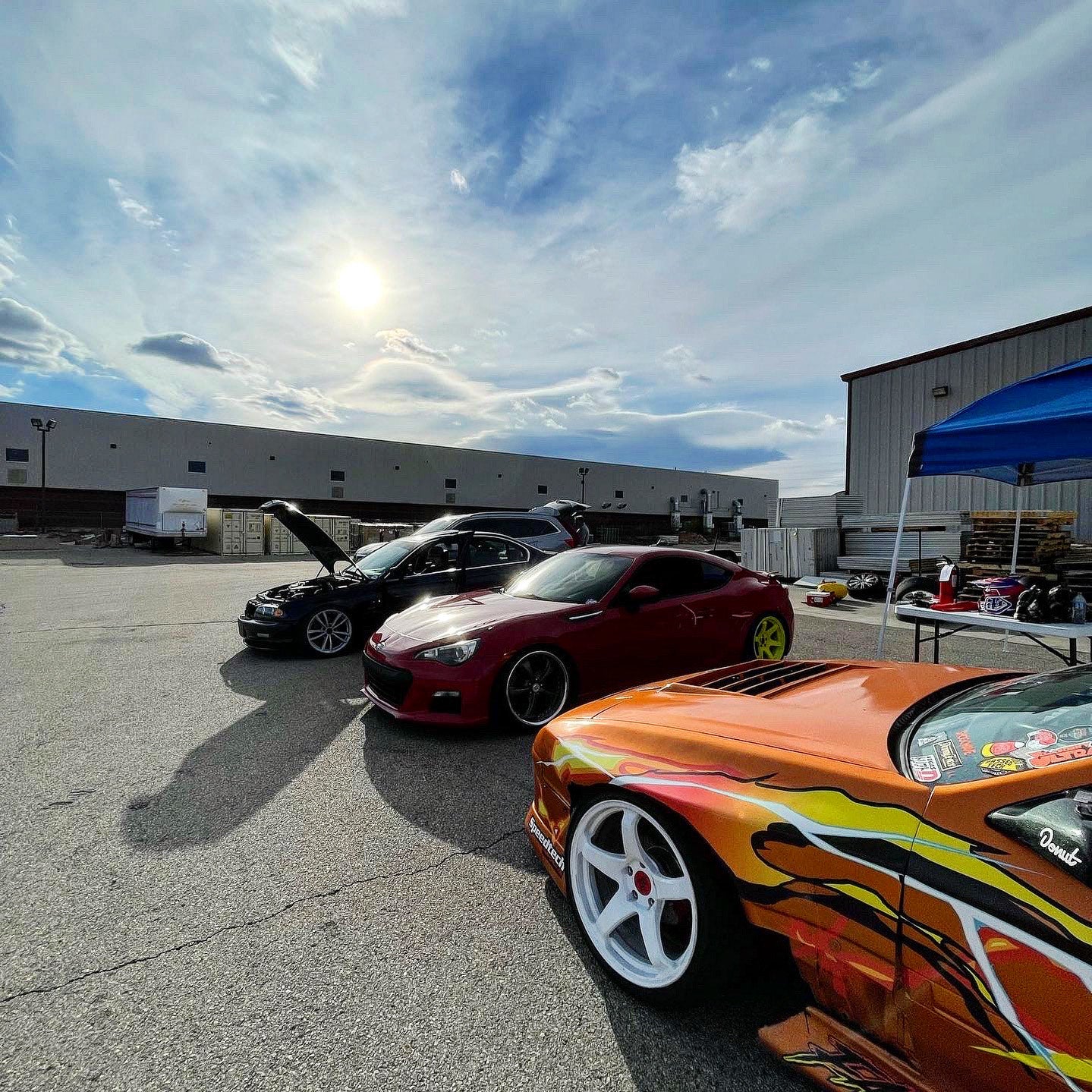 JOIN US
Welcome to The Scoundrels Drift Clinic, the first-ever Southern Utah destination for anyone looking to learn the art of drifting or experience the thrill of riding in a high-performance drift car. Our team of experienced and skilled instructors will guide you through the intricacies of drifting, helping you develop the skills and techniques necessary to become a master of the sport.
VIEW COURSE OPTIONS
Collapsible content
LOCATED IN ST. GEORGE, UT.

Our courses take place in a private lot, closed-off from the public.

Courses are limited to 6 students per course, to ensure adequate one-on-one instruction for each student.

COURSE DETAILS

Our courses take place on Saturdays and Sundays.

Half-day course: 4 hours of seat time + instruction (9am - 1pm)

One-day course: 8 hours of seat time + instruction (9am - 5pm)

Two-day course: 16 hours of seat time + instruction (9am - 5pm both days)
WHAT YOU WILL LEARN

You will be focusing on 5 important car control techniques.

These techniques are:

J-turns

Consistent, controlled donuts

Figure 8's

Clutch - kicks

Counter - steering

Once you've mastered these 5 techniques, you will be confident in controlling your car. You can then move on to advanced maneuvers such as initiating a drift into a corner, and learning to carry the drift throughout the corner.
WHAT SHOULD I BRING?

Good question. Here's what you'll need -

1. Your car! We don't offer rental cars as of now, so each student is required to bring their own vehicle.

2. Closed-toe shoes. Sorry, no sandals.

3. Long pants (no shorts)

4. A helmet (Your own is preferred, but if you do not have a helmet, we may be able to provide one for you)

5. Water! Remember to stay hydrated, drifting is a physical activity.
RIDE-ALONGS
In addition to our courses, we also offer ride-alongs in our high-performance drift cars, giving you the opportunity to experience the adrenaline-pumping thrill of drifting from the passenger seat. Ride-alongs are a great gift for birthdays, family outings, or any other event for people who love adventure. Our cars are equipped with all neccessary safety features, ensuring that you have a safe and exhilarating ride.
CHASE GARRETT
Chase has over 10 years of drifting experience, and has driven on race tracks all over the country with drivers of all skill levels, from grassroots to the pro's.
His vehicle of choice is a 1991 Mazda Rx7 FC powered by an American V8 engine.
Chase's passion for car culture and drifting is unrivaled.
"We are thrilled to bring The Scoundrels Drift Clinic to the Saint George area. We believe that anyone can learn to drift, with the right guidance and practice, and we are excited to help our students do just that."
Dominic has been drifting his RB25 Swapped Nissan 240sx for 10+ years. Instructing, sponsorships, competitions, judging and drifting with the pro's has only pushed him deeper into the sport.
Dominic wants to slide with as little interuptions as possible; as to focus on the art of car control. He is excited to share his knowledge and love of drifting with the world and further grow the community.
COME JOIN US AND LET'S TAKE YOUR DRIVING SKILLS TO THE NEXT LEVEL
Have a question? Let us know